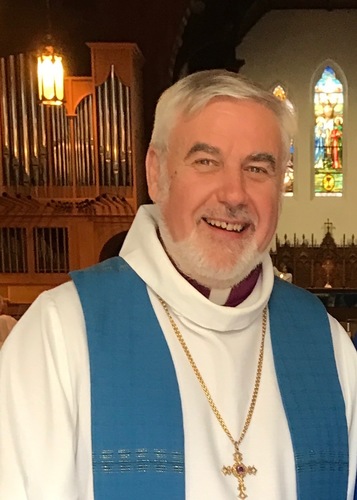 Dennis Drainville was consecrated bishop-coadjutor for the Diocese of Quebec on January 18, 2008 and was installed Twelfth Bishop of Quebec on Pentecost, May 31, 2009. He had previously served as Archdeacon of Gaspé (since 2002) and Archbishop's Missioner (since 2006).
Dennis was born in Joliette, Québec, but received his schooling mostly in Ontario. He earned his B.A. and M.Div. degrees from Trinity College in Toronto, the latter degree awarded in 1982. He has also been granted a Doctorate in Sacred Theology (Hon) from Montreal Diocesan Theological College and a Doctorate in Divinity (Hon) from Trinity College, University of Toronto. After graduation from Trinity College, Dennis was ordained deacon and priest by Bishop Allan Read of Ontario and was Incumbent of the Parish of Land O' Lakes. In 1984, he was appointed Executive Director of STOP 103, a multi-service agency in the urban core of Toronto. Its mandate was to serve the poor.
Dennis served briefly in the diocese of Montreal as Anglican Chaplain at McGill University while also supporting Poverty Missions in Montreal, in particular: Auberge Madeleine, Le Garde-Manger Pour Tous, and St. Michael's Mission. In 1985-86 he Chaired the first National Conference on Hunger held in Toronto in 1987. Dennis was elected in 1990 as a member of the Legislative Assembly of Ontario representing Victoria-Haliburton. He served as chair of caucus, chair of the select committee on confederation, and as an assistant Speaker of the House.
Between 1995 and 2003 served on the Percé City Council as a Municipal Councillor. He was also a founder and trustee of a community based charitable foundation responding to the spiritual, social and health needs experienced by Anglophones in the Greater Gaspé-Percé area. In 2004, the Gaspé Ecumenical Chaplaincy Foundation was established to meet these needs. Dennis is a recipient of the Canada 125 Commemorative Medal for service to the community. He is the author of Poverty in Canada, a report prepared for the Anglican Church of Canada and published in 1985 by the Anglican Book Centre.